Boxwood Concert Queenscliff
SATURDAY, 5 MARCH 2022
Queenscliff Town Hall
50 Learmonth Street
7.30-9.30pm
PURCHASE TICKETS AT: www.trybooking.com/BWQDZ
Boxwood Festival returns to Queenscliff Town Hall, this year with an alluring concert that features traditional Irish music up alongside baroque art music, performed by some of the best Victoria has to offer.
Concert Director and violinist Shane Lestideau has assembled a line-up of musical mirrors: violins, flutes, harps and singers. On one hand are the exponents of Irish traditional music, and on the other are specialists in baroque music. However the definitions of each do easily blur, and what prevails is the beauty, power and nuance of the melodies, and the unique voices through which we hear them today.
Irish music duo, Ado Barker (fiddle, Trouble in the Kitchen) and Dougal Adams (flute) will play up a storm, their tune sets formed through years of playing in sessions and at festivals. Shane will also bring some of her favourite Irish music to the floor, with her performance coloured by her gut-strung baroque violin and distinctive 18th-century playing style. Greg Dikmans and Ryan Williams will perform on historical flutes and recorders, with virtuosity and grace. Harpists abound, with Andy Rigby and Claire Patti showcasing the majesty and enchantment of the Celtic harps. And featured on the bass lines is the viola da gamba, skillfully performed by Laura Moore.
A highlight of this concert is the debut of the Boxwood Sea Aires Choir, lead by Claire Patti, renowned vocalist and choral director. It's a festival choir, and singers will perform excerpts from Henry Purcell's famous 'Come Ye Sons of Art' and a much-loved Irish ballad. Excerpts will include favourites such as 'Sound the Trumpet' and 'Strike the Viol'. To join the 2-day workshop and sing in this performance, go to www.boxwood.org/australia/choir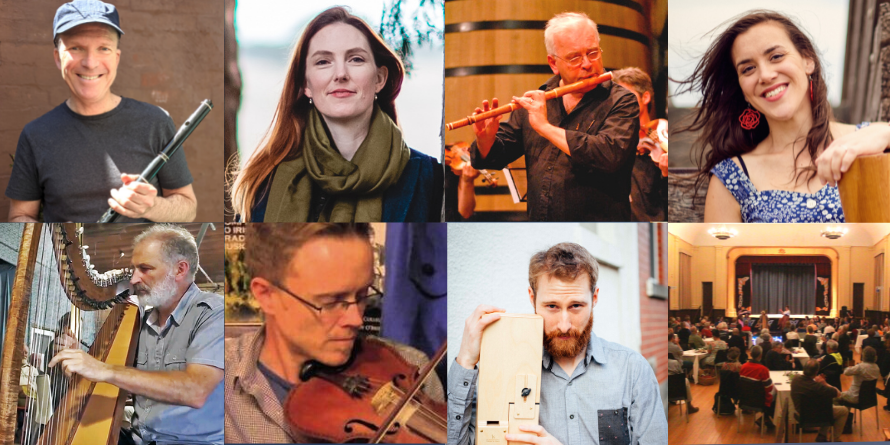 Dougal ADAMS – Irish flute
Ado BARKER – Irish fiddle
Greg DIKMANS – baroque flute
Shane LESTIDEAU – Artistic Director, baroque violin
Andy RIGBY – harp
Claire PATTI – choral director, vocals, harp
Laura MOORE – viola da gamba
Ryan WILLIAMS – recorder, ocarina
BOXWOOD SEA AIRES CHOIR

---
This performance will be conducted in accordance with covid-safe practice and advise from DHHS. Given the evolving situation with COVID-19, Boxwood will provide a full refund to those who have paid, but need to subsequently cancel due to restrictions or concerns related to the pandemic.